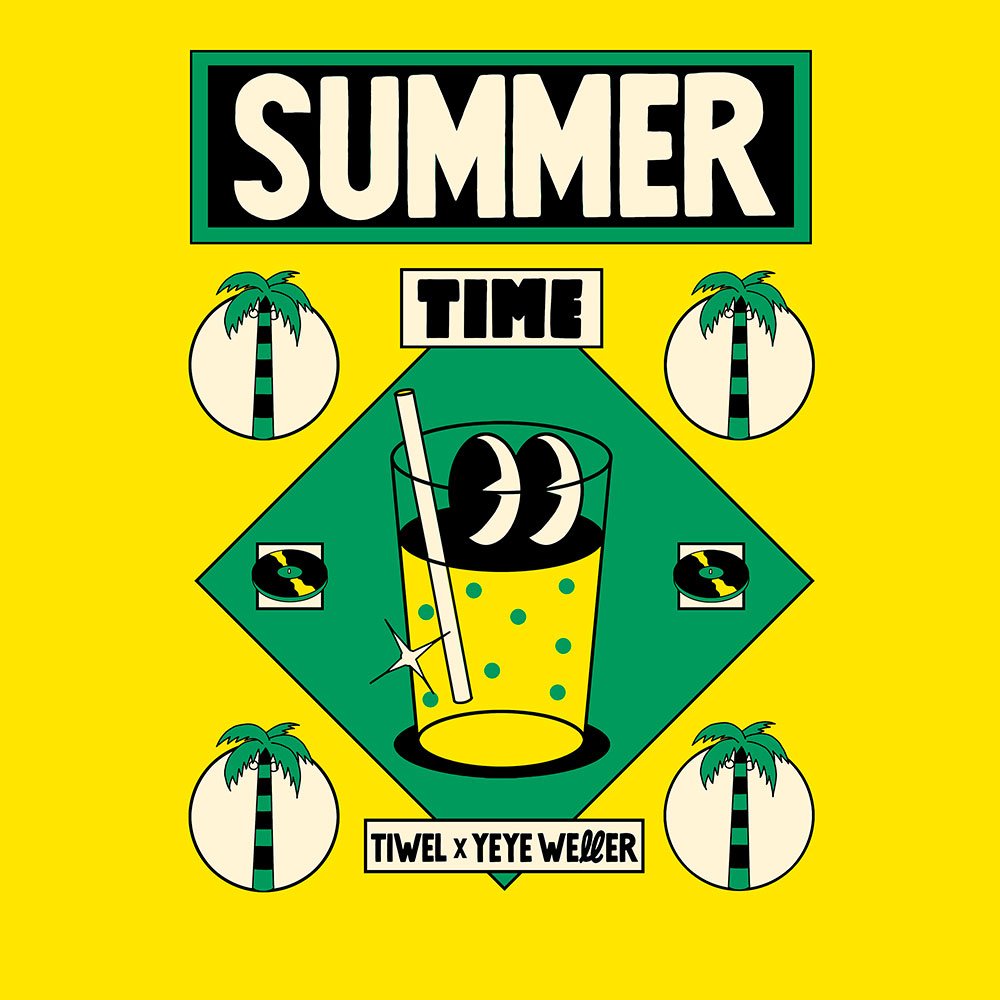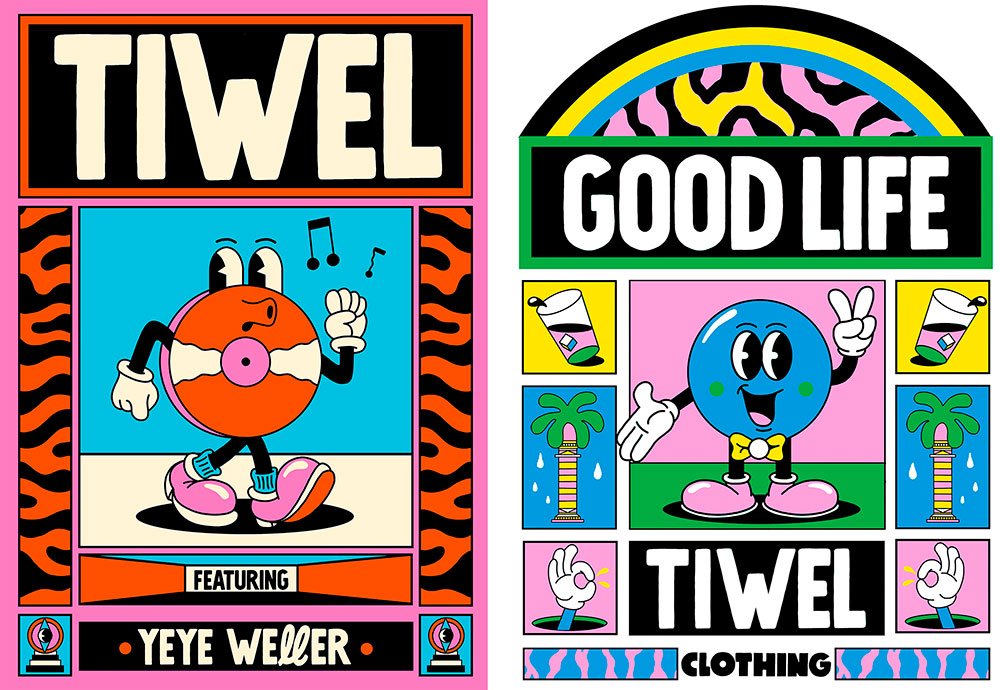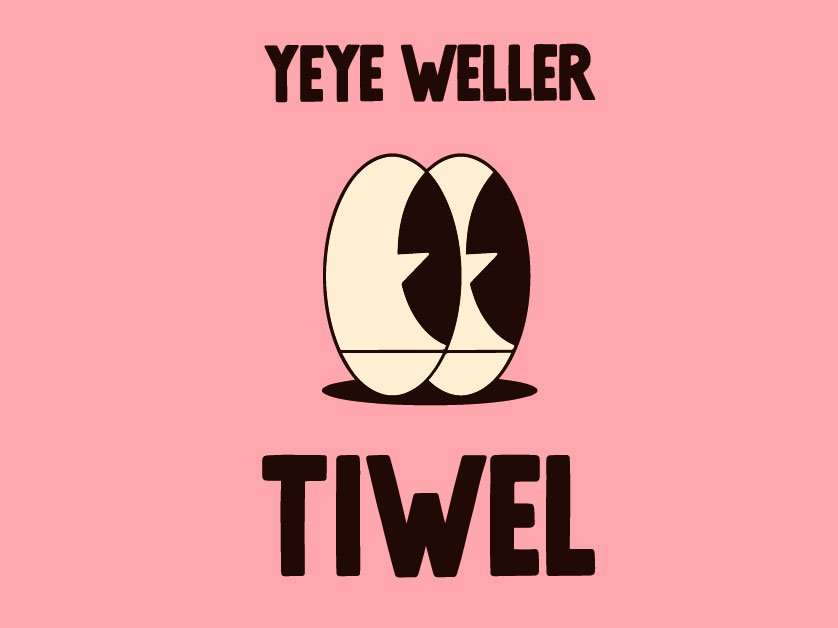 Yeye Weller
As every season, we collaborate with artists from all over the world and for the capsule of the new spring-summer 2020 collection we have the humour and bold illustration of Yeye Weller.
The style of this artist and illustrator from Munster (Germany) is characterised by a touch of humour, bright colour combinations and a clean and pure graphic design. His funny/weird characters are an essential part of his amazing universe. His cartoonish style of colourful illustration depicts a range of characters – some human, some animal and some numerical, where they all have in common a vibrant, almost garish colour palette that is guaranteed to catch the viewers' attention.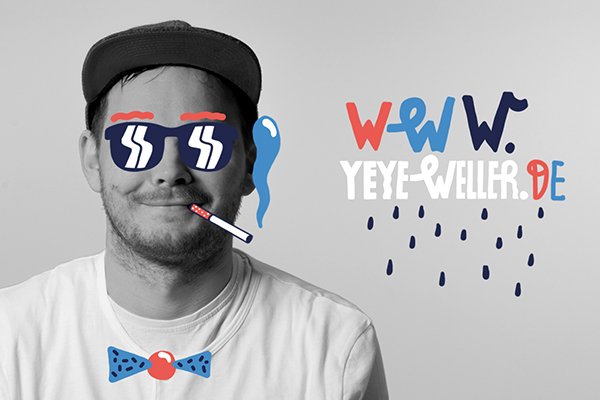 Just try to draw beautiful things that bring joy, for a few seconds. It is not easy to make something visually pleasing to us in a natural way, just as we love to eat or sleep. Yeye Weller achieves this with an innate talent by selecting the right colours, creating characters with more sympathetic human characteristics and generating harmonious compositions. If you add a vintage touch with a clear influence of cartoons from the 20s and 30s, the result is even more incredible and we have been able to transfer it to our guest artist capsule collection also with an exclusive poster…

«I simply draw things that I think are beautiful and that will make the viewer happy»
He loves football, rain and sarcasm, and always wanted to draw like Caspar David Friedrich. He devoted himself to what he does best, combining "bad jokes with beautiful colours". When you enter the world of this artist, you will see a wealth of detail, with a style that knows no bounds.
His characters are dogs, food or objects with human features, drawn in a comic-like grid. Yeye Weller is an all-rounder and creates everything from small illustrations in his studio in the German city of Münster and pieces for his hand-printed magazines to work with big clients such as Warner Bros, New York Times and Dunkin' Donuts.
His work or the style of his illustrations is reminiscent of 1930s cartoons and food packaging illustrations from the 1960s, such as Max Fleischer or Walt Disney. His main influences and references: "Something that really impressed and influenced me was the yellow submarine in the Beatles film, designed by the German illustrator Heinz Edelmann. I've watched that film over a hundred times and it's still one of my favourites. I also watch more contemporary cartoons like the Simpsons".
The vibrant colours and timeless style of designer Yeye Weller evoke a sense of nostalgia. "I love colour, mood and balance. These are the three necessities of my work. I don't have a clever message, my illustrations come as they are: happy, colourful and stupid."
Find out more on the Official website | Instagram
From one of his latest interviews with Adriana Conde for Joia Magazine you can get to know Yeye Weller and some of his crazy stuff a little better.
Can you tell us something almost secret about yourself? What do you like to do besides designing? What is your daily routine like?
One of the best things about my job is that I don't have a routine. Some days I really want to work and other days I'm in bed until noon. I like being my own boss, coming into the studio and playing music. Besides designing, I also like to create music, even though I don't play an instrument, with a computer and an internet connection, anything is possible. In that sense, one of my favourite projects is "Hammer Bros", where a friend of mine and I combine sounds from classic videogames with different musical genres to generate "happy" melodies.
I also like playing football, when I was younger I was a very good player, but I wasn't willing to give up all my other interests to be a professional footballer. Sometimes I think about how it would have ended if I had stayed in football, but I think it was a good decision. In the end, no matter what you are, the most important thing is to trust yourself. When I was younger I applied to the Münster School of Design and was rejected; ten years later I came back and my thesis was the best of the course.
Are there any memories from your childhood or adolescence that have had an impact on your career and/or your current work?
When I was a child I never stayed at home. I grew up in a very small town in Germany and was always playing football or running around. Still, I always felt a special attraction for things that I found "beautiful". I collected stickers and coasters, I still do today. Later on I started collecting advertising for my favourite skate brands, and started filming some tricks, I learned Photoshop at the age of 14, and became addicted to that program. We started selling our own clothes with designs to friends and classmates.
You divide your work between Yeye Weller and Lumen Von Borsody. Who are they and what is the creative process behind each? Could you describe your style and why you decided to separate your work in this way?
I thought it would be a good idea to operate with two alter egos, but unfortunately reality showed me that there is only time to focus on one project. This duality is the result of my bachelor thesis, creating a book for children and adults in a mixture of both styles. One is the clean, digital style of Yeye Weller and the second is the rough, handmade style of Lumen Von Borsody. Both are united by colour. I like the success I'm having with Yeye Weller's style, but sometimes I miss the nonchalance of Lumen Von Borsody.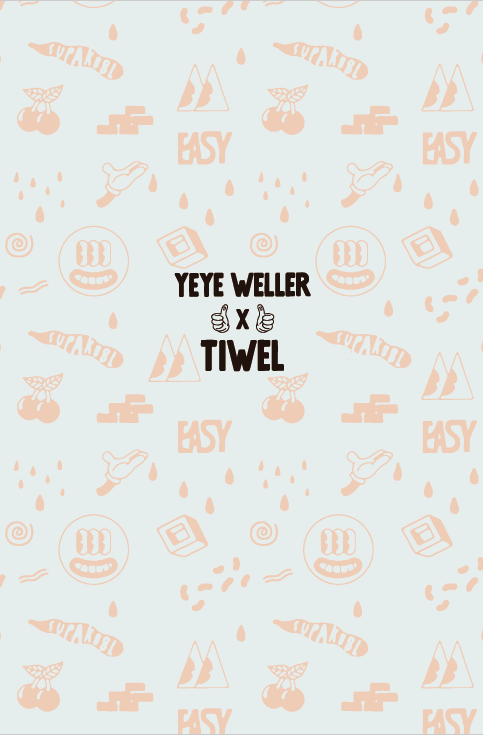 FIND OUR YEYE WELLER COLLECTION!